Panorama of Masuria in the center of Giżycko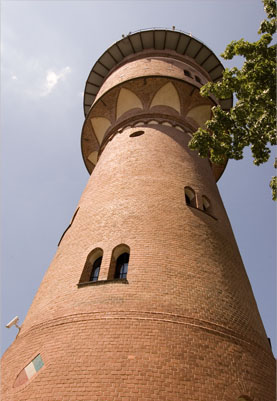 The Water Tower in Giżycko is an extraordinary object. It is not only a viewing point, but also a small museum and a cafe. You can enjoy here the stunning panorama of the city and surrounding it beautiful woods and lakes. The viewing terrace is placed on the last floor.
On the way to the viewing point you can watch an exhibition of local historic photographs and documents. In a cozy café beneath the terrace you can enjoy a cup of coffee and taste delicious local cakes. Souvenirs are sold on the ground floor in a small shop.
The Water Tower is located near the city centre at Warszawska Street 37. Opening hours: May: 10-18, June: 10-20, July: 10-22, August: 10 -22, September: 10-18